Professional Guaranteed unlock for ANY iPhone or iPhone 5!
Best in Dallas. 682-561-2222.
our Retail Store offer's 100% GUARANTEED RESULTS.

Now full and complete unlock for ANY iPhone 2G, 3G, 3GS, 4, 4S and iPhone 5 GSM.
**

GUARANTEED

**

We offer Professional GUARANTEED unlock service for ANY iPhone INCLUDING newest iPhone 5
Best service in DALLAS. 682-561-2222. 100% Guaranteed!
Service is done

WHILE YOU WAIT

in our Retail Store
Located in ARLINGTON.


Call for complete details. 682-561-2222

** YES WE UNLOCK ANY IPHONE - PERIOD! WITH

ANY FIRMWARE OR SOFTWARE VERSION

,

ANY MODEM OR BASEBAND VERSIONS

AND

ANY BOOTLOADER!

**

WE CAN FULLY UPGRADE YOUR IPHONE TO NEWEST iOS SAFELY AND KEEP YOUR IPHONE FULLY UNLOCKED AND FULLY JAILBROKEN!

We also sell ALREADY unlocked iPhone's and GSM phone's for use with T-mobile, Simple Mobile, Wal-Mart Family Mobile, AT&T, H20, Hawk, Cingular or other GSM sim cards with NO service contract, extension or upgrade needed! Just insert your existing sim card and go - THATS IT!



We can also safely and reliably UPGRADE and Update any iPhone to the latest and newest firmware available, even already unlocked iPhone's. Get the latest firmware and features of Apple's Newest iPhone OS with full Jailbreak, Activate and FULLY UNLOCKED ready to use any GSM SIM card in the world - GUARANTEED ON ANY IPHONE.





We also carry a large inventory of accessories and gifts for cellular device. You are welcome to stop by our store and browse our items in stock now all at discount prices. We are open 7 days a week to serve you best! PLEASE CALL FOR HOURS AND DETAILS.




Professional Unlocking Solutions for any

Apple iPhone *ALL MODELS & ALL VERSIONS*

, Apple iPhone, Nokia and Motorola Cellular and Mobile Phones.
All Done in person, WHILE YOU WAIT in our Retail Store located in Arlington. Service performed by professional qualified technicians, and all 100% Fully Guaranteed.

YES WE CAN UNLOCK THE NEW iPHONE 5 GSM, iPhone 4, iPhone 4S, iPhone 3gs, iPhone 3g and the original iPhone 2g!

WE CAN ALSO DOWNGRADE IPHONE TO OLDER VERSIONS!
If you have accidentally upgraded your precious iPhone or iPhone 3G to a New OS version and modem or Baseband version --- We can downgrade your iPhone BACK to an OLDER version!!

Yes we upgrade and unlock newest firmware


ANY IPHONE

ANY

*

VERSION
ANY

*

FIRMWARE OS

** CALL FOR DETAILS **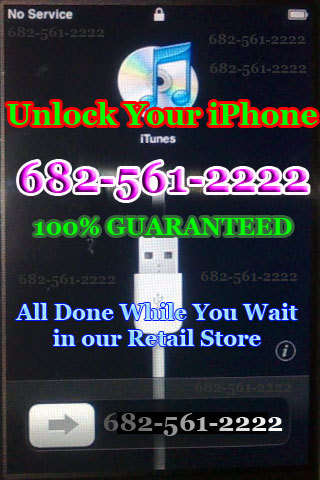 Is your iPhone:
A Locked iPhone 3G, 3GS, 4, 4S or iPhone 5 (we can unlock it)


Locked or Un-Activated


Crashed

Stuck at iTunes or Apple Logo screen, slide to unlock, slide for emergency

Tzones Data Internet Stopped Working

Bricked or Not Responding


Not Fully Unlocked for all services
JUST PLAIN ** Boring!? **

WE CAN FIX IT. Get your iPhone 100% Fully Unlocked to work with ALL GSM CARRIERS IN THE WORLD. Use it with T-mobile, AT&T, Cingular, Hawk, or ANY SIM CARD AROUND THE WORLD.
Get the FULL and real internet on T-mobile!! NO FUNCTION LOSS, NO FEATURE LOSS!

Our exclusive software additions can make your iPhone unique and special. We can add literally thousands and thousands of items for you, like new LOUD custom Ringtones, Wallpapers, Themes, Icons, Games, Programs and more. Get Real NINTENDO, Video Recording, MMS PICTURE MESSAGING, COPY AND PASTE, Voice Navigated TURN by TURN gps directions and so much more. Please call for details. 682-561-2222
Don't be fooled! Be smart and never put your expensive iPhone, iPod or Cellular Device at risk with Amateurs, Children or these random in-home do it yourselfer guys who are still experimenting and learning on YOUR IPHONE! You KNOW better than that! Trust only the REAL and PROVEN PROFESSIONALS! Who have the knowledge and experience to do the job right and without any risk of damage, failure or worse---theft! All of our services are performed at our RETAIL STORE, all done quickly and safely WHILE YOU WAIT in our showroom and browse our many iPhone and iPod Touch accessories. Rubber Gel Skins, Leather Cases, Screen protectors, Bluetooth, Headsets, Chargers, Cables and Wires! We will never open your device and void your warranty! We can install our custom and EXCLUSIVE software and game packages that will make your iPhone truly unique! With Literally THOUSANDS of separate items put on to improve ANY iPhone! All of our software is GUARANTEED 100%! a real and true guarantee from a real brick and mortar retail store in business for more than 10+ years! You deserve the very best and the most for your money! CALL US TODAY! (682) 561 2222

Our ad's are often imitated, but our service, quality and quantity is NEVER DUPLICATED!

We are one of the oldest and original iPhone unlocker's in the DFW Metroplex, having served countless satisfied customers and their phones. We offer you support now and in the future for your device!
BE SMART! and Don't get scammed or ripped off by fly by nights, in-home and mobile service guru's, and these meet me at starbucks guys. Be safe, get the best, and get a real professional! Call us Today! 682-561-2222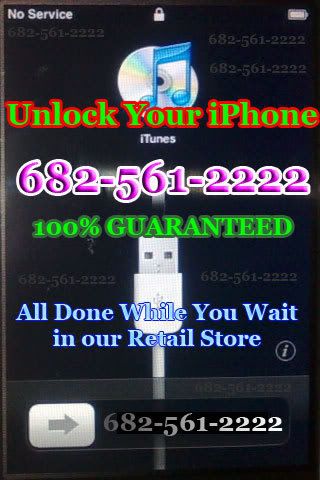 Keywords: unlock iphone firmware 1.1.4 2.0 2.0.2 apple jailbreak jail break jailbroken jail broken cydia installer apptap jailbreakme.com upgrade bricked ibricker ibrick hack mod modify recovery winpwn downgrade upgrade arlington best unlocker unlocking unlocked locked locking itunes logo usb cable slide to unlock slide for emergency ziphone activate activated att at&t tmobile tzones cingular hawk simcard sim card anysim recovery mode dfu mode upgraded downgraded upgrade downgrade itunes locked unlock iphone i phone apple jailbreak i phone, iphone, unlock, unlocked, wireless, tmobile, t-mobile, iphone unlock, i phone unlock, turbosim, turbo sim, apple, stealth sim, nextsim, iphone 1.1.2, 1.0.2, 1.1.1, 1.1.3, 102, 111, 112, 113, upgrade, upgraded, update, updated, iphone unlock, unlocking, unlock, downgrade, upgrade, install, 8GB, 16GB, 4GB, 32GB, Brand NEW, Phone